Classes for nursery age children ages 0-2 years starting this Sunday, March 14!
From Amber Goldmann and Ivy Baca -
We will be resuming classes for nursery age children ages 0-2 years starting this Sunday, March 14! Protocols for class are at the end of this message and will be posted at the nursery.
We will not yet be offering an attended nursery during worship service. The nursery will be open during worship for parents to take their children ages 0-2 for diaper changes, feedings etc. We ask that while in the nursery (1) all parents/adults have a mask or face shield on at all times, (2) all diaper changing areas be wiped down after use, and (3) parents bring their child's personal toys to play with while using the nursery during worship service. Also, in order to minimize traffic in the nursery and to maintain proper social distancing, only one parent per child will be allowed to be with the child. We ask that other family members and children stay out of the nursery so we can provide the safest environment as possible.
We are excited to welcome those sweet faces almost exactly a year to the day from the last time we saw many of them. We appreciate your cooperation and understanding as we navigate together this time of Covid and providing the safest environment possible for our babies.
If you have any questions or concerns please feel free to contact either of us.
In Christ,
Amber and Ivy
Nursery Covid-19 Cleaning and Class Protocol
We will adjust these protocols as time and CDC regulations allow.
1. All teachers and helpers will wear either a mask or a face shield while interacting with all children in the nursery. All parents entering the nursery will need to have a face mask or shield on when in the nursery.
2. Each child with have a basket with toys that will be specific to them that will be cleaned and sanitized in between classes.
3. All children will be placed 6 feet apart.
4. All staff/teachers will wash/sanitize hands upon entering nursery and regularly throughout the class.
5. All diaper changing areas will be sanitized between diaper changes.
6. Only one parent per child will be allowed in the nursery to pick up the child. No other family or children will be allowed in the nursery.
7. All snacks, sip cups, blankets, and pacifiers will need to be provided by the parents. We will not be providing group snacks while practicing Covid precautions.
Also...
8. The nursery will not have attendants during church service. Parents are welcome to go into the nursery during worship but will need to provide toys for their child to play with during this time.
9. The nursery as well as all the toys used by each child during class will be cleaned during the week in preparation for the following week.
10. We ask that any infant who has a family member or has been around a person who has displayed Covid symptoms or has been sick with a cold, fever, vomiting or diarrhea within 10 days not use the nursery or attend nursery class.
Ponderosa Christian Camp Will Open This Summer!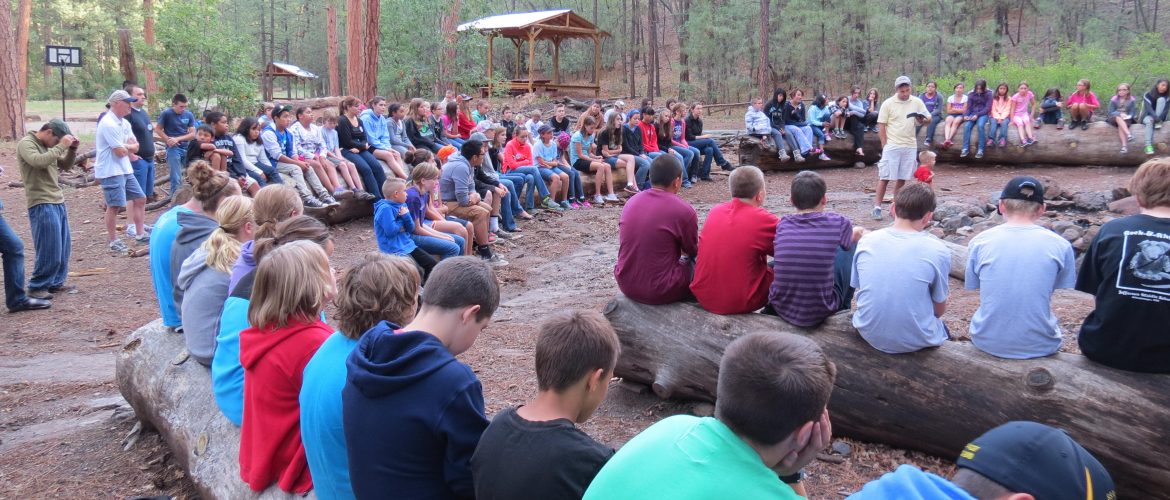 The Board has decided to have camp this summer! Session dates below. Stay tuned for more details to come on April 5th!
- High School (July 4th-10th)
- Elementary (July 13th-17th)
- Junior High (July 18th-24th)
- Middle School (July 25th-31st)
Information About Onsite Classes and Children's Worship
First, we want to remind you that this Sunday, March 7th, we will be starting in-person classes at the building immediately following the worship service. Classes will last 45 minutes.
We will have one adult class in the fellowship hall.
Classes for teens, elementary age, and pre-school children will be in their usual locations.
We do not have plans for a nursery class at this time.
Secondly, our Children's Worship will transition from elementary age to pre-school age and will be held in Room 101. This means our order of services will change slightly - communion will be observed before the sermon rather than after.
We hope you'll join us Sunday, either online or in person!
Join us for a study on Prayer using the Zoom platform. This class is open to the entire congregation. We'll look at prayer in the Bible, both how other people prayed and how God responded. We hope to enrich our own prayer life as well as our understanding at how God responds to us and works in our lives.

Our regular scheduled times are: Sundays, 5:00pm - 6:00pm.

It will also be interactive, meaning you're not just watching a prerecorded lecture and will be able to participate to the class.

If you need help using Zoom, see links at the end of the email.

Click on "Join Zoom Class" to join!
If you have any questions or feedback for this class, email Addison at:

Meeting ID: 633 054 8360
Passcode: 87110
Important Notification from the Elders - 1.14.2021
The in-person portion of our Sunday morning worship services will resume this Sunday, January 17, 2021 after a two week pause to protect the health and safety of our church community. We will continue to closely monitor the Covid cases within and without our congregation and will pause in-person services at any point we determine it is prudent to do so. As your elders we feel a tremendous burden to care for the spiritual and physical health of our congregation and we want you to know that we greatly appreciate your cooperation and understanding as we navigate these unprecedented times. Each of you are in our prayers and we continue to covet your prayers on our behalf.
While we have confidence in the safety protocols we have in place, we know that any gathering of people contains an element of risk. Therefore, we want to reemphasize four important points:
If you have any COVID-19 symptoms (link) at all you should stay home and worship with your church family on-line.
If you are in a high-risk category (link) or simply feel unsafe meeting in an indoor group setting, we encourage you to join us in worship online.
If you attend in-person services, we ask that you strictly follow all mask wearing, social distancing and hand washing protocols.
If you have attended in-person services recently and subsequently test positive for COVID-19 please contact one the elders or ministers so we can make appropriate decisions based on that information.
If you have questions, please contact any of the elders or ministers or respond to this message.
Your Shepherds,
Bob, Craig, Curtis, Larry

NMDOH COVID Vaccine Registration Site
Church App for Your Smart Phone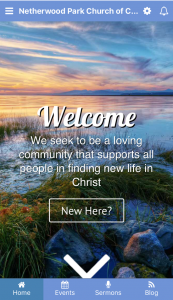 If you have a smart phone you will want to download the Our Church app. It is simple to download if you follow these steps. Go to your App Store and search for the "Our Church - By ChurchDev.com" app and "Get" it. Finally, search for Netherwood Park Church of Christ and install it...see the screenshot. You now have our website on your phone!
On the upper left of the app you can click on the three bars to see the menu. If you have a username and password you can access the member's area and view the latest church directory, bulletin, etc. If you haven't signed up for access you can easily do so. An important feature of the app is that if the church leadership ever needs to send an important or emergency message to the members it can be done via a "push notification" and it will appear immediately on your phone.