Modified Children's Worship Available - 1.24.2021
Children's Worship!
Beginning January 24th, 2021 a modified Children's Worship program will be offered for children aged 5 to 11 years old, with bible stories, crafts, games, singing, and prayer. Check-in will begin at 9:15 am on Sunday mornings in the gym.
Masks and Social Distancing will be required, but we have worked hard to come up with some ways to make them part of a FUN challenge to earn prizes!
Colorful, kid-sized disposable masks will be provided each week. Shields are allowed for children who are not able to wear masks but will need to be worn to class, as we are not able to provide them at this time.
We are only able to offer this ministry by implementing COVID SAFE practices. Your cooperation is essential in keeping this program active.
If you have any questions, please contact Stephanie Doyle.

Important Notification from the Elders - 1.14.2021
The in-person portion of our Sunday morning worship services will resume this Sunday, January 17, 2021 after a two week pause to protect the health and safety of our church community. We will continue to closely monitor the Covid cases within and without our congregation and will pause in-person services at any point we determine it is prudent to do so. As your elders we feel a tremendous burden to care for the spiritual and physical health of our congregation and we want you to know that we greatly appreciate your cooperation and understanding as we navigate these unprecedented times. Each of you are in our prayers and we continue to covet your prayers on our behalf.
While we have confidence in the safety protocols we have in place, we know that any gathering of people contains an element of risk. Therefore, we want to reemphasize four important points:
If you have any COVID-19 symptoms (link) at all you should stay home and worship with your church family on-line.
If you are in a high-risk category (link) or simply feel unsafe meeting in an indoor group setting, we encourage you to join us in worship online.
If you attend in-person services, we ask that you strictly follow all mask wearing, social distancing and hand washing protocols.
If you have attended in-person services recently and subsequently test positive for COVID-19 please contact one the elders or ministers so we can make appropriate decisions based on that information.
If you have questions, please contact any of the elders or ministers or respond to this message.
Your Shepherds,
Bob, Craig, Curtis, Larry

NMDOH COVID Vaccine Registration Site
Church App for Your Smart Phone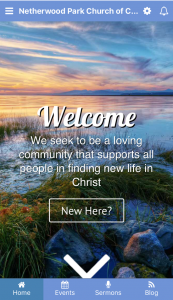 If you have a smart phone you will want to download the Our Church app. It is simple to download if you follow these steps. Go to your App Store and search for the "Our Church - By ChurchDev.com" app and "Get" it. Finally, search for Netherwood Park Church of Christ and install it...see the screenshot. You now have our website on your phone!
On the upper left of the app you can click on the three bars to see the menu. If you have a username and password you can access the member's area and view the latest church directory, bulletin, etc. If you haven't signed up for access you can easily do so. An important feature of the app is that if the church leadership ever needs to send an important or emergency message to the members it can be done via a "push notification" and it will appear immediately on your phone.