Wow…2020 has been a crazy year!  With the church office being closed due to COVID-19, we have been unable to keep our panty up and running normally.  We continue to help our own church members when needed, and have also taken on a ministry of helping out Harrison Middle School and New Futures School  who have some  families in immediate need of food.
In the past, our annual Fall Pack the Pulpit event has been held so that we could provide holiday food boxes for our members and neighbors in need.  These boxes included gift cards for meat (or other main dish) and enough food for Thanksgiving dinner, plus a little extra.
Of course, things will be a bit different this year!  We still plan to have Thanksgiving food boxes available for any church members in need of a little extra help for their holiday meal and for anyone that a member knows that may be in need.  However, we will not be able to have our traditional Pack the Pulpit – so instead, we will be having a Drive By Pack the Gym! 
Here's how it will work:
1. If you attend In Person Services on November the 8th, we ask that you leave your items in your car until after services. Once services are over, simply drive by the north side of the gym and drop off your food donations.  We will have workers there to help you unload.
2. If you don't attend In Person Services on the 8th, you can still bring your items that day to the North side of the Gym between 11:00 AM and Noon - we will have workers there to help you unload.
3. If you are unable to bring your donation to the church on November 8th, please drop it by the office Monday, November 9 or Thursday, November 12 between noon and 2:00 PM and we'll help you unload.
We will have a different type of list this year (found below) to collect mostly food for a Thanksgiving meal, so please review carefully and let us know if you have any questions.  We already have plenty of vegetables in stock, so that is why they are not on the list.  If you are unable to shop and would prefer to make a monetary donation, please give it to one of the elders, one of the pantry staff or mark it as "Thanksgiving box" in the memo line before you drop it in the contribution box.
Also please tell us by November 13 of any family members or friends you know who need a box.
November 8th is the day!
We so appreciate all of you who help with this ministry.
Karla and Ken, Judy, Stephanie
GROCERY ITEMS FOR FALL DRIVE BY PACK THE GYM ON
NOVEMBER 8, 2020
Below is a list of requested grocery items for our Drive By Pack the Gym for 2020.  We ask that you find the letter that your last name begins with and bring as many of that particular item as possible.  Keep in mind that we will be filling approximately 30-40 boxes.  We hope this list will be helpful to you as you plan your giving.  Monetary donations are always welcome!
Last name starting with:                    Item

A, B                                        Stove Top Stuffing
C, D                                       Instant mashed potatoes AND/OR canned sweet potatoes
E, F, G                                     Mac 'n Cheese
H, I & J                                   Turkey Gravy (or chicken) – jar, can or dry package
K & L                                       Powdered Milk AND/OR Canned Evaporated Milk
M & N                                     Fruit pie filling AND/OR pumpkin pie filling
O, P & Q                                  Pie crust mix (boxed Betty Crocker or Jiffy)
R & S                                       Sugar--4 lb bag
T, U & V                                  Flour--5 lb bag
W, X, Y & Z                             Cranberry Sauce AND/OR Canned Fruit
While we appreciate all donations that we receive, PLEASE CHECK THE EXPIRATION DATES on the items that you donate.  Whether you are donating items from your own pantry or purchasing items at the grocery, please check the expiration dates.  We cannot give out expired food or previously open packaging.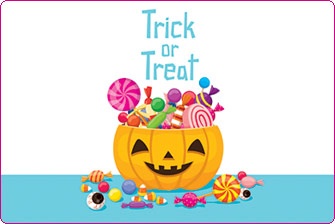 Join us for a special Halloween Grab & Go! We will be handing out Boo! Bags for the kiddos of Netherwood Park, filled with tricks and treats to bring some smiles to our favorite little monsters! Use the link below to let us know how many children you will be picking-up bags for (10 years old and under only, please) and come by the north side of the church gym on Saturday, October 31st from 2-4 pm for a drive-through grab and go. We can't wait to see your smiling faces!
Women of Truth Bible Study - 2 Peter
The Women of Truth Bible Study is beginning a new study of 2 Peter starting Tuesday, October 27.  This is actually a follow on to the completion of our study in 1 Peter.
This one hour class is held every Tuesday evening from 5:25-6:30 pm and focuses on our study and growth in the knowledge of scripture, God's Holy Word, in order to instruct us on living in alignment with His word in every area of our lives. Specifically, the study of 2 Peter will focus on our discernment of false teachings in our world today and having the right defense through a true understanding and knowledge of God's word.
Key Verse: 2 Peter 3:17-18: "Therefore, dear friends, be forewarned, be on your guard so that you are not carried away by the error of unprincipled men and fall from your own steadfastness, but grow in the grace and knowledge of our Lord and Savior Jesus Christ. To Him be glory both now and forever! Amen."
Anyone interested may contact Kathryn Lewis via email  for more details and class information.  The class is currently conference call only (no Zoom).
Sprint to the Finish - Read Through the New Testament by Year's End!
The church leadership is challenging everyone to read the New Testament through by the end of the year. You can use this reading plan or follow your own. Remember to record the number of books you have read by clicking on the Ministries menu and then selecting the Bible Reading Challenge sub-menu.Thanks for your participation!
Church App for Your Smart Phone - 7.16.2020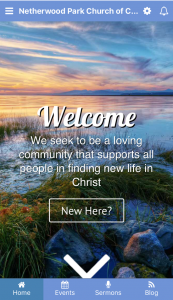 If you have a smart phone you will want to download the Our Church app. It is simple to download if you follow these steps. Go to your App Store and search for the "Our Church - By ChurchDev.com" app and "Get" it. Finally, search for Netherwood Park Church of Christ and install it...see the screenshot. You now have our website on your phone!
On the upper left of the app you can click on the three bars to see the menu. If you have a username and password you can access the member's area and view the latest church directory, bulletin, etc. If you haven't signed up for access you can easily do so. An important feature of the app is that if the church leadership ever needs to send an important or emergency message to the members it can be done via a "push notification" and it will appear immediately on your phone.