If you are interested in Higher Ground, the women's climb is on November 4th – 7th. Contact Tammy Henson or Kathy Lewis for more information. The men's climb is on November 18th - 21st. Contact Bill Henson for more information. You can also find information at the Higher Ground NM website.
We've traditionally started up our Small Groups the first Sunday after Labor Day. Although things are a bit unsettled we will follow our usual timing and start this week.
We'd like everyone to be in a Small Group! If you're not in a Small Group and want to join one, or you're not sure of the status of your Small Group, simply call the office (at 505-256-7389), or send an email to Zane Heard and we'll get in touch with you.
If you've been in a Small Group and have questions for your host, just get in touch with them.
PS - If you didn't get this announcement a couple of weeks ago via our News & Notes email, we can add your email address to our list - we send announcements and prayer requests throughout the week. Just call the office or send Zane an email.
Stepping Out Instead of Stepping Back! (New Meeting Info & Guidelines) - 8.27.2021
To our Netherwood Family,
Thank you so much for stepping out with us last Sunday! There was an energy and excitement in the courtyard that exceeded our expectations. Was everything perfect? Of course not. Did we learn some valuable lessons? Absolutely! Are we going to do it again? Definitely!
Here's what we learned: 
1. You all are awesome! Your cooperation, patience and grace was humbling and your energy, enthusiasm and excitement was inspiring! We can't begin to thank you enough.
2. We need more shade!
3. We need to improve the sound.
4. We need to provide more seats.
5. We need to live stream our service.
6. Most of our classes will need to be inside.
Here's what will be different this Sunday:
1. More shade. Much more shade!
2. A reconfigured seating pattern providing greater capacity and improved sound coverage.
3. Our service will be live streamed on YouTube.
4. Children's worship will be available in Room 101.
5. The Young Married class will meet.
Important notes about Bible classes:
1. We will be adhering to the New Mexico mask mandate which went into effect August 20, 2021 and reads: "Unless a healthcare provider instructs otherwise, all individuals age 2 years and older shall wear a mask or multilayer cloth face covering in all indoor public settings except when eating or drinking."
2. The Adult Fellowship Hall class will meet in the courtyard - masks are optional.
3. The Young Married Class will meet in their normal classroom - masks are required.
4. The Youth Class will decide on Sunday where they will meet - either indoor with masks or outdoor with masks optional.
5. Journeyland (elementary age) will meet in their normal classrooms - masks are required.
6. Discipleland (pre-school age) will meet in their normal classrooms - masks are required.
7. Nursery class will meet in the nursery - masks required for teachers.
WEATHER:
Right now, the forecast is for temperatures in the mid to upper 70's with clear skies and gentle breezes.
DRESS: Wear light-weight, light colored and loose fitting clothes. DRESS CASUALLY BUT WORSHIP EXTRAVAGANTLY! 
We greatly appreciate your continued prayers and your spirit of cooperation.
As always, if you have any questions please contact any one of us.
In Christian love,
Your Netherwood Elders
African Christian College Update!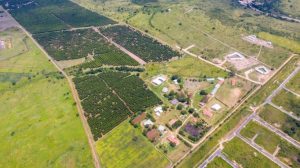 Your prayers make a difference!
Dear Friend,
I want to update you on the situation in Eswatini and ask you to continue to pray.
---
Covid19 Third Wave
     Cases. In Eswatini, there have been more new, confirmed cases of Covid19 in the last 30 days than there were in all of 2020. The cases, deaths, and recoveries are rising daily. About a third of all Covid19 deaths in the country have been in the past month.
     Vaccines. Thanks to a gift from the US government, vaccines are being more widely distributed. About 8% of the population have been vaccinated -- most in the past two weeks. But Eswatini only has enough vaccines to reach 25% of the population.
     Campus. Over the past month, we have had a dozen confirmed cases of staff and their families. Many others have also been sick. Thankfully, none have needed hospitalisation and all confirmed cases have recovered. Campus is in a modified lockdown with monitoring and restrictions in place.
---
Political Situation
New Prime Minister. In the Sibaya held by the King, he named a new prime minister and condemned the acts of the protesters. Since the protesters desired to elect the prime minister, this was not received well.
Political Prisoners. Since the meeting, two Members of Parliament who oppose the monarchy have been arrested and held without bail. They are charged under the Anti-Terrorism Act. Their trial is set to begin next week and last for two weeks.
Past Month's Activity. The past month has seen disruptions by both protesters and law enforcement at rallies, roadblocks, and funerals. A visit from the regional government alliance has not resulted in any clear actions yet. Things are somewhat calm, but tense.
      Threats. There is widespread threats to begin tomorrow (15 August) "until the MPs are released." The threats intend to shut down the country again by "disciplining" all active businesses, employees, schools, and vehicles. The government has said it is ready to respond . . . which is also troubling.
---
Please, continue to pray.
Please continue to pray for the following:
Continued safety and health for our staff, students, families, and residents in Eswatini.
For healing of those with Covid in Eswatini and around the world.
Continued protection of our campus and macadamia orchards.
A resolution to the current crises in Eswatini and South Africa that honors God and human dignity.
For our students and teachers as they study online. Online study is difficult and Covid19 affects their home countries as well. On Monday, a new module of courses begins as we approach year end.
For wisdom as we navigate the local political and Covid challenges with discernment and focus on God's Kingdom.
For our macadamia harvest which is concluding this month after disruptions because of the virus and protests.
The mission continues . . .
God is at work, despite the difficulties these situations present. And God is at work through your prayers, partnership, and support of African Christian College.
Thank you for being an important part of what God is doing in Africa and throughout the world. Our world needs well-equipped, godly leaders now and, together, we're doing our part to help equip them.
Blessings,
Brad Carter
President
Church App for Your Smart Phone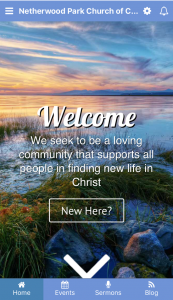 If you have a smart phone you will want to download the Our Church app. It is simple to download if you follow these steps. Go to your App Store and search for the "Our Church - By ChurchDev.com" app and "Get" it. Finally, search for Netherwood Park Church of Christ and install it...see the screenshot. You now have our website on your phone!
On the upper left of the app you can click on the three bars to see the menu. If you have a username and password you can access the member's area and view the latest church directory, bulletin, etc. If you haven't signed up for access you can easily do so. An important feature of the app is that if the church leadership ever needs to send an important or emergency message to the members it can be done via a "push notification" and it will appear immediately on your phone.