Help Needed: Final Camp Work Days - 5.31.2021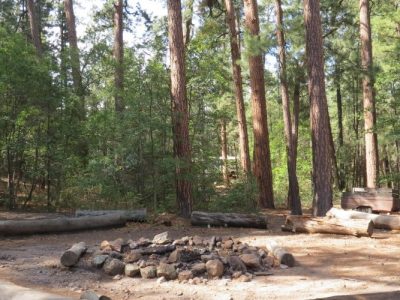 June is the last month we will have to get the camp ready for the July camper sessions and the family camps to follow. With the campground being shut down last year due to Covid-19 there is still much to get done and all skills and abilities are needed.
The camp will be open for work every Thursday, Friday, and Saturday during the month of June. Workers will receive meals, and cabins are available for those who want to spend the night. If you are interested please contact Craig Mathews for more information or to let him know you are coming so they can arrange for extra food. Thanks!
Statement From the Elders - 5.15.2021
We are pleased that the recent surprise announcement from the CDC and the state of New Mexico regarding mask wearing for fully vaccinated individuals allows us to move another step toward normalcy in our worship services, classes and activities. As we have consistently done from the beginning of this pandemic, we will do our best to abide by these guidelines in our services, classes and activities effective immediately.
The CDC announcement states: "Fully vaccinated people (2 weeks after their second dose in a 2-dose series, such as the Pfizer or Moderna vaccines, or 2 weeks after a single-dose vaccine, such as Johnson & Johnson's Janssen vaccine) can resume activities without wearing a mask or physically distancing, except where required by federal, state, local, tribal, or territorial laws, rules, and regulations, including local business and workplace guidance."
In plain English, we interpret this to mean that fully vaccinated individuals are free to choose whether they wear a mask or not.
You can find a helpful chart here: Safer Activities Chart
We are aware that masks are an emotional and divisive subject for many and we are extremely grateful that you have consistently behaved in loving ways that honor your brothers and sisters and the church leadership. We also know that this latest step will be met with a variety of emotions from those in our church family, including elation, relief, confusion and trepidation. Therefore, we want to remind us all that we have a continuing obligation to make sure our actions continue to be guided by love, compassion and a spirit of unity. We do not intend to police the new mask guidelines but instead trust that we all will be guided by Paul's words:  "in humility value others above yourselves, not looking to your own interests but each of you to the interests of the others." Philippians 2:3-4
We once more thank you for your continued understanding, support and prayers as we navigate these unprecedented times.
Your Elders.
Ponderosa Christian Camp Will Open This Summer!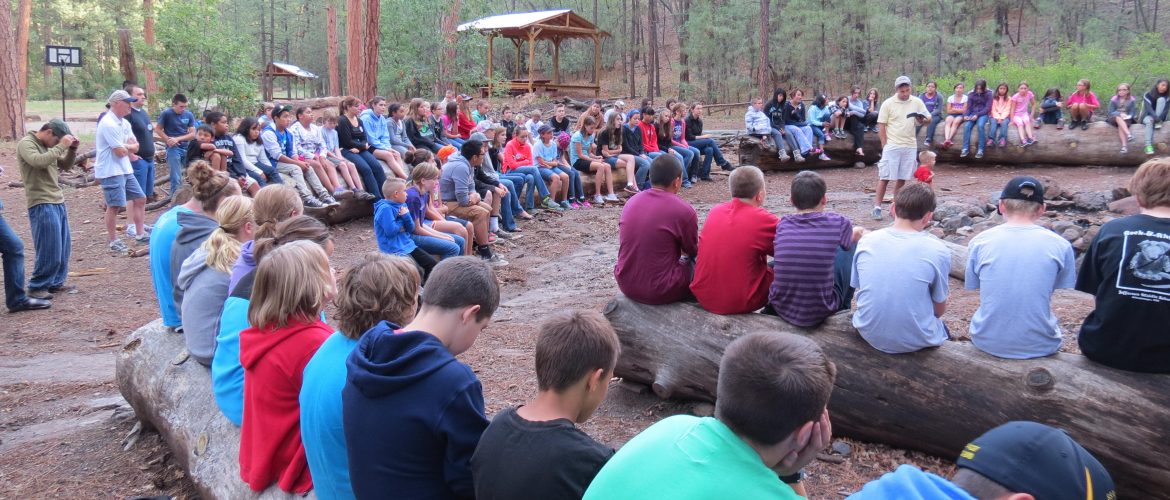 The Board has decided to have camp this summer! Session dates below. Stay tuned for more details to come on April 5th!
- High School (July 4th-10th)
- Elementary (July 13th-17th)
- Junior High (July 18th-24th)
- Middle School (July 25th-31st)
Church App for Your Smart Phone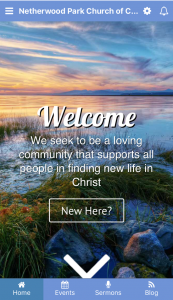 If you have a smart phone you will want to download the Our Church app. It is simple to download if you follow these steps. Go to your App Store and search for the "Our Church - By ChurchDev.com" app and "Get" it. Finally, search for Netherwood Park Church of Christ and install it...see the screenshot. You now have our website on your phone!
On the upper left of the app you can click on the three bars to see the menu. If you have a username and password you can access the member's area and view the latest church directory, bulletin, etc. If you haven't signed up for access you can easily do so. An important feature of the app is that if the church leadership ever needs to send an important or emergency message to the members it can be done via a "push notification" and it will appear immediately on your phone.