ACCH Virtual Open House - 8.22.2020 @ Noon
On August 22, @ noon, tune in on Facebook Live here and scroll down to see the Live Video. You don't have to have a Facebook account to see the video!
Enjoy Music From Vintage!
All proceeds raised from this event will go to our general operating fund.
Church App for Your Smart Phone - 7.16.2020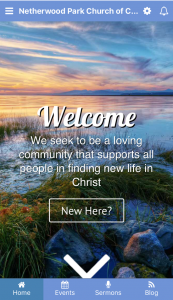 If you have a smart phone you will want to download the Our Church app. It is simple to download if you follow these steps. Go to your App Store and search for the "Our Church - By ChurchDev.com" app and "Get" it. Finally, search for Netherwood Park Church of Christ and install it...see the screenshot. You now have our website on your phone!
On the upper left of the app you can click on the three bars to see the menu. If you have a username and password you can access the member's area and view the latest church directory, bulletin, etc. If you haven't signed up for access you can easily do so. An important feature of the app is that if the church leadership ever needs to send an important or emergency message to the members it can be done via a "push notification" and it will appear immediately on your phone.
Onsite and Live Streamed Worship Services - 6.28.2020
We will once again be meeting onsite this Sunday at 9:30 am and Live Streaming that service on Netherwood's YouTube channel.  A recording of the service will also be available on our channel soon after services end. Also, if you would like to make your weekly contribution online, you can do it here: Online Giving
Thank you!
What Sevices Will Look Like
We know many of you have been eagerly awaiting information about our live worship assembly and we are pleased to provide you an almost Oscar-worthy short video that will answer most of your questions about what to expect on Sunday at 9:30 AM.
The details: Watch the video here: What Services Will Look Like
The highlights: Following the consensus guidelines of medical experts on how to best keep our members safe and limit the possibility of spreading the virus to our various communities, we will be practicing social distancing, wearing masks, avoiding contact with frequently touched surfaces, staying home if we are sick, part of vulnerable populations (link here) or uncomfortable with being in public gatherings at this time - not because we are being told to, but because it is the right thing to do, the loving thing to do and the respectful thing to do.
We greatly appreciate your continued prayers and your spirit of cooperation.
As always, if you have any questions please contact any one of us.
In Christian love,
Your Netherwood Elders
Special COVID-19 Statement from the Ponderosa Christian Camp Board of Directors - 6.1.2020
Based on restrictions placed on us as a result of the COVID-19 pandemic, we are forced to cancel all activities including camp sessions for 2020.  We were hopeful that restrictions would ease to the extent that we would be able to open camp this year.  Unfortunately, that didn't happen.  We look forward to opening camp next Spring, if the situation changes.
If you submitted a camper application, we will be contacting you regarding refunds.
Please continue to pray for this Nation and Ponderosa Christian Camp during this difficult time.