Church App for Your Smart Phone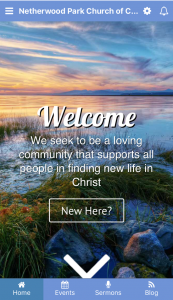 If you have a smart phone you will want to download the Our Church app. It is simple to download if you follow these steps. Go to your App Store and search for the "Our Church - By ChurchDev.com" app and "Get" it. Finally, search for Netherwood Park Church of Christ and install it...see the screenshot. You now have our website on your phone!
On the upper left of the app you can click on the three bars to see the menu. If you have a username and password you can access the member's area and view the latest church directory, bulletin, etc. If you haven't signed up for access you can easily do so. An important feature of the app is that if the church leadership ever needs to send an important or emergency message to the members it can be done via a "push notification" and it will appear immediately on your phone.