Ponderosa Fall Retreat - 10.6.2023 to 10.8.2023 - Register by 9.22.2023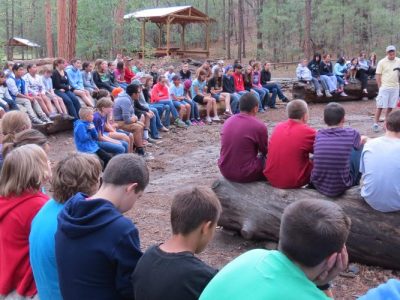 Mountainside, Netherwood, and a few churches in the area are going to go to Ponderosa for a Fall Retreat. When: 5:00pm on Friday, October 6th - 3:30pm on Sunday, October 8thWhat: Retreat and Worship; Guest speaker from Gateway CoC.Where: Ponderosa (van leaves and arrives at Netherwood)Cost: $30 per person.  If you are going, please register by September 22. See link below. While there, we will eat in the mess hall, sleep in the dorms, worship God with devotionals and personal time, play Capture the Flag, sing by the campfire, have smores, and a lot of good time together.  Transportation is provided. The Netherwood van will leave about 5:00pm on Friday from the Netherwood parking lot, and will return 3:30pm on Sunday.  We need 2-3 chaperones to go as well. Please consider going in order to support our teens and the event. Let me know if you would like to go and I will waive your chaperone fee. You will need to bring a sleeping bag and warm clothes. It gets very cold up at Ponderosa in October.
ACCH Basket Project - Donations Needed by 10.8.2023
Youth Group, we need your help!  The ACCH benefit auction is coming up on November 11th, and we'd like your help creating a basket for the silent auction.  The theme will be "Crocs." Requesting that families donate a pair of crocs of any size and/or jibbitz to accessorize them.  Requesting brand name crocs as I've been told the jibbitz only fit in them.  (If you sign up on crocs.com for emails, receive a 15% off coupon.)Please have donations turned into Addison or Tiffany Hendricks by October 8th.  Thanks!
McCall's Farm General and Double Haunt Tickets

It may seem like a long way away, but McCall's Farm is coming up. Tickets are on sale, and I bought a good batch of tickets already. However, I need to know how many people plan on coming to make sure we have enough. 
Use the sign up link below to let me know how many people are coming and which ticket types you'd like to reserve. Parents and family members are welcome.  You can do a Double Haunt ticket, which lets you go to both haunts, or you can do a General ticket, which lets you into the area, but does not allow you to go on any haunts. I'm charging $25 per Double Haunt ticket and $10 per General ticket.  When you sign up for a ticket, you also get food and snacks at our campfire. We're doing hotdogs, chips, marshmallows, and hot chocolate and other drinks. (McCall's does have food for sale, but that's up to you).  Use the link below to reserve some tickets. Payment will be due by the McCall's event.